You need to rest ! Have break ! Until April 30th 2020 take advantage of special rates Half board stay in […]
Annie, Laure & Jacques DEMEN and their team wish you all the best for this new year
You need to rest ! Have a break ! Until April 30th 2020 take advantage of special rates Half board stay in a double […]
Contact us
Hôtel-Restaurant Lacs d'Halco
Route de Cazalis
Les Lacs d'Halco
40700 HAGETMAU
Tel.: +33 (0)5 58 79 30 79
Fax: +33 (0)5 58 79 36 15
La Chalosse – watch the video !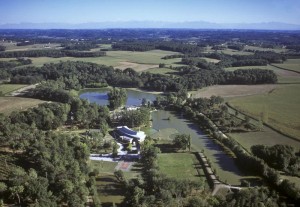 Origin of « Landaise » gastronomy, La Chalosse, also famous for the high quality of its agricultural products and the richness of its architectural and cultural heritages, offers an undulating and green landscape.
Lying at the foot of the Pyrenees and very close to the Atlantic Ocean, steps away from the pine forest, between Armagnac, Madiran and Jurançon, it is the ideal place for countless discoveries.
An extraordinary art of living emerges from this country, which expresses itself in « La Course Landaise ». It is a confidential sport made of majesty and courage, where brave men challenge wild cows or wild bulls.
We would like to make clear that « Course Landaise » is not « Corrida ». Cows and bulls are not injured nor killed. All risks are for courageous men.
Charming 4 stars hotel – Gastronomic restaurant in South West of France in « Les Landes » between Dax and Pau