You need to rest ! Have break ! Until April 30th 2020 take advantage of special rates Half board stay in […]
Annie, Laure & Jacques DEMEN and their team wish you all the best for this new year
You need to rest ! Have a break ! Until April 30th 2020 take advantage of special rates Half board stay in a double […]
Contact us
Hôtel-Restaurant Lacs d'Halco
Route de Cazalis
Les Lacs d'Halco
40700 HAGETMAU
Tel.: +33 (0)5 58 79 30 79
Fax: +33 (0)5 58 79 36 15
Annie's Restaurant
La cuisine d'Annie
Refined and innovative cuisine fashioned by Annie Demen inspired by the seasons and tradition. We invite you on a cruise in our dining room, like a water Lilly, it is sitting on the lake, and offers a panoramic view on lakes and nature.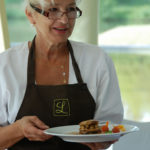 « A la carte » : 55,00 € per person including beverage
Menus : from 49,00 € to 66,00 €
For lunch during the week « Formule Bistrot » at 24,00 €
Menu for groups start at 55,00 € including aperitif and cocktail snack, wine and coffee (car transport by bus can be arranged)
Annie Demen
Annie Demen : « I bring the same attention to a group meal or to a meal « a la carte », I take great care in selecting quality products, rest assured that everything I serve, from cocktail snacks, to mignardises and bread is produced in my kitchen. I want to ensure that no detail is overseen in order to satisfy gourmet customers ».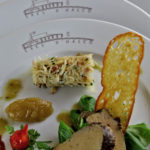 Charming 4 stars hotel – Gastronomic restaurant in South West of France in « Les Landes » between Dax and Pau